Latacunga Tourist Guide
TRADITIONS, CULTURE AND FOOD
Latacunga city.
We are located between the cities of Quito and Ambato, at an altitud of 2.850 meters, and the city has a temperate and cold climate. Not only is the Mama Negra Festival held in Latacunga; it also has a number of other tourist attractions such as churches, la Laguna Park, the Historic Center, etc.
PHOTO: DIEGO PAREDES B.
When one walks through this charming and tranquil city, the narrow, cobble stone streets testify to its colonial atmosphere.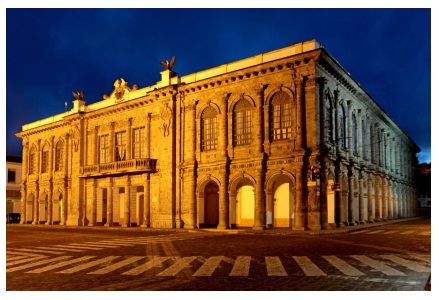 PHOTO: DIEGO PAREDES B.
The Cathedral
The main cathedral has a romantic style with pumps rock in the interior and its church bells that announce the time of the eucharist.
PHOTO: MIGUEL ANGEL RENGIFO ROBAYO

House of Marqueses de Maenza
This building is located in the center of Latacunga. Its imposing columns and arches are made of pumice rock which was used around the period it was constructed
The House of Marqueses de Maenza also has different has which include a library, hemerotary (where the history of the city is recounted), a number - mathematics, museum, a religious - art museum, and the Yellow Hall where sculpture, furniture and other items are found.
PHOTO: DIEGO PAREDES B.